Scan documents

Show expandable text
To scan documents into Onvio using a TWAIN or WIA-supported scanner, choose New > Scan. Show me the Scan to PDF panel.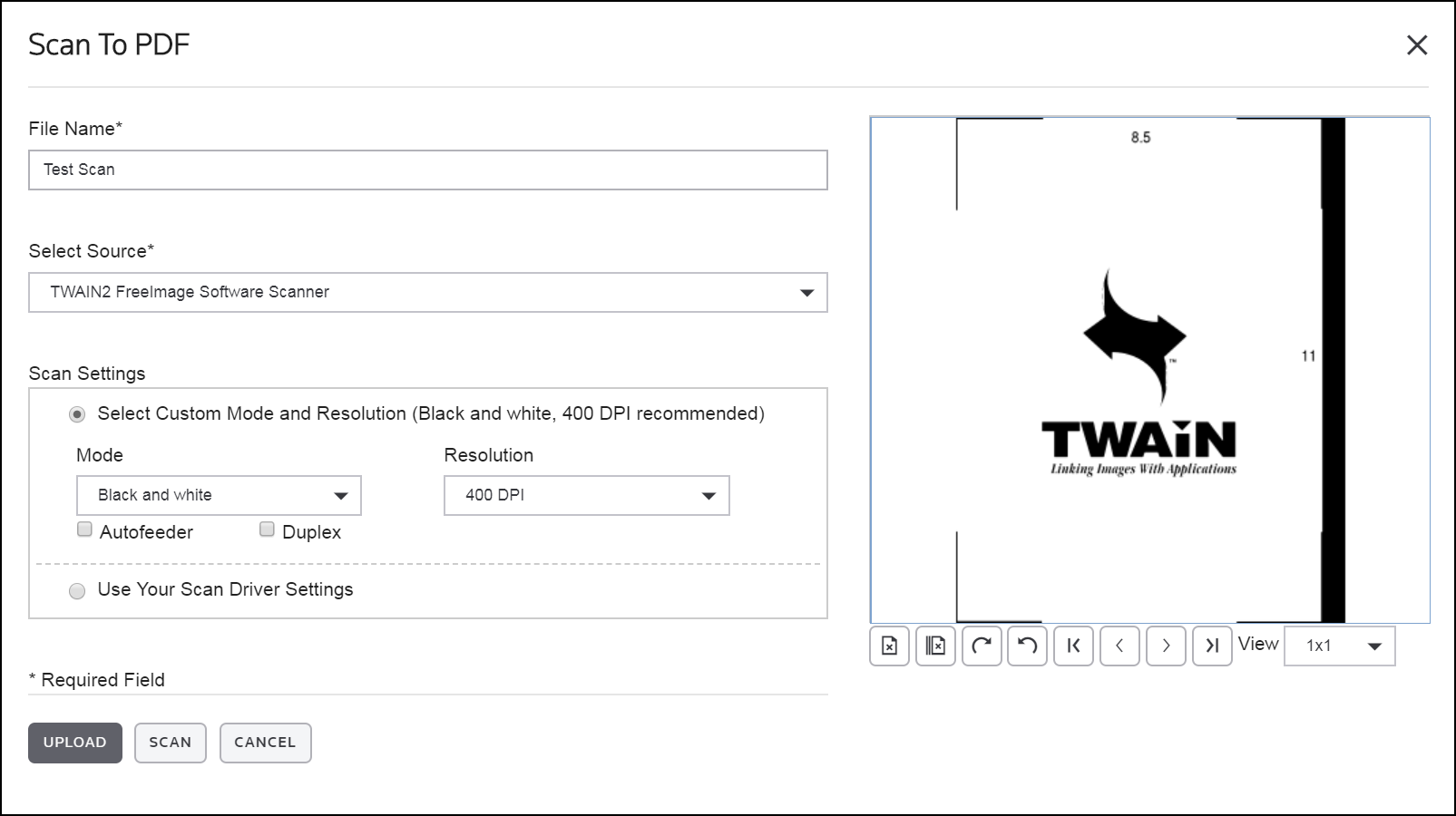 Dynamic Web TWAIN plugin is required to scan documents into Onvio. The first time you scan a document, Onvio will require you to install the plugin by clicking the Download link in the Scan to PDF panel.
We recommend that you scan images in black and white at 400 DPI. If you choose color or grayscale options for documents that you scan at 400 DPI and above, file sizes will be larger (up to 1MB per page).
Onvio stores scanned documents in the Documents area or Workapers binder as PDF files.
If you're unable to scan documents, verify that your scanner is turned on and connected to your computer.
In the Documents area, the scanning option is available only from within folders in My Documents, Firm Documents, and from within client folders in Client Documents. Client contacts with appropriate permissions can scan documents into shared folders.
In the Scan to PDF panel, you can perform the following actions.
Mark the Autofeeder or Duplex checkboxes when using scanners that offer those features.
Click the Scan button consecutively to scan multiple documents from multiple sources into a single PDF prior to uploading it into the Documents area, or Workpapers binder.
Click the Upload button after scanning is complete to upload a PDF of scanned items in the selected folder of the Documents area, or Workpapers binder.
In a Microsoft Windows environment, you can perform the following actions from the Scan to PDF panel.
Select the Use Your Scan Driver Settings option to open your default scanner settings dialog when you click the Scan button.
Use the Preview pane to view the scanned document and perform the following actions.

Click the rotate buttons to change the orientation of pages in the document.

Note: Click the page in the preview pane before you rotate the image.

Select your view preferences (1X1, 2X2, 3X3, and so forth) from the View mode drop-down list.
Contact us
---
Was this article helpful?